All Rights main target is to improve the currently low take-up of rights in Israel and specifically in the area of social rights, especially among the weaker parts of the population. We have decided to tackle the challenge by building a collaborative, Wikipedia-like Web site. As such our organization is a small mix of technologists, advocates, editors and trainers. We plan to remain small! We have already shown that we can bring different organization to work together towards the good of the public.
Main Facts

We have more than 150,000 monthly unique visitors, comparable to more then 6 Million in the US
More than 3,300 Hebrew pages released to the public
More than 400pages in writing
More than 600 pages in the Arabic site
About 100 partners. Some of them are shown here.

Short History

November 1, 2009: started development
June 21, 2010: formal incorporation
September 16, 2010: The site was released for the public (stealth-mode)
November 22, 2010: Official public launch
June 27, 2011: first meeting of the Advisory Board
Board of Directors
Erez Perlmuter - Chairperson:
Joshua Schoffman:
Naomi Stuchiner:
Prof. Feisal Azaiza:
Avinoam Armoni:
Management Team
Amitay Korn - Managing Director
Eden Fuchs - Deputy Manager
| | |
| --- | --- |
| Chairperson: Prof. Yitzhak Zamir | Former supreme court judge |
| Dr. Safa Abu-Rabia | תלמידת מחקר לתואר שלישי באו' בן גוריון. תחום התמחותה: זהות, זיכרון ומרחב תחת הקשרים מגדריים, פמיניזם ערבי ומוסלמי. פעילה חברתית בתחום קידום נשים וקידום יחסי יהודים ערבים באזור. חברת סגל ומנהלת תוכניות במרכז מנדל למנהיגות בנגב |
| Barbara Epshtein | מנכ"לית עמותת סינגור קהילתי. עובדת-סוציאלית קהילתית. ב-92' הצטרפה לגרעין המייסד של עמותת "סינגור קהילתי" העוסקת בהעצמת הקהילה, ובסיוע לאנשים החיים בשולי החברה, תושבי שכונות, קשישים, עולים וחד-הוריות. |
| Prof. Johnny Gal | דיקן בי"ס לעבודה סוציאלית באו' העברית. פרופ' גל חוקר נושאים שונים של מדיניות חברתית בישראל, השוואה בין מדינות סעד ויישום של מדיניות חברתית. |
| Adv. Ruth Horn | לשעבר היועצת המשפטית של המוסד לביטוח לאומי. עורכת עוקדן הביטחון הסוציאלי ע"ש מנחם גולדברג ז"ל, חברה במועצת הנאמנים של הקרן לטיפול בחסויים, יו"ר ועדת ביטוח לאומי בלשכת עורכי הדין, מרצה בתחום הביטחון הסוציאלי במסגרות שונות ובפקולטה למשפטים במסלול האקדמי של המכללה למינהל בראשל"צ, בשנים 2005-2009 |
| Avigdor Willenz | יו"ר רשת החינוך החדשה של רשי"י, יזם היי-טק, ויו"ר קרן גליליאו. לשעבר יו"ר חבר הנאמנים של מכללת תל חי. לשעבר מייסד ומנכ"ל של Galileo Technologies. |
| Prof. Neta Ziv | מנהלת הקליניקות המשפטיות באו' תל אביב ופרופ' בפקולטה למשפטים באו' תל אביב. לשעבר מנהלת המחלקה המשפטית באגודה לזכויות האזרח. |
| Rachel Liel | מנכ"לית הקרן החדשה לישראל. לרחל ליאל, תואר שני בסוציולוגיה\אנתרופולוגיה ובעבודה סוציאלית. לשעבר מנכ"לית שתיל. שימשה בעבר כסגנית מנהלת המחלקה לשירותי שיקום במשרד העבודה והרווחה ועבדה בניתוח מדיניות במחלקה למדיניות חברתית של משרד ראש הממשלה. |
| Adv. Orna Lin | ראש משרד עורכות דין אורנה לין בע"מ. לשעבר היועצת המשפטית בנציבות שירות המדינה. פעילה בלשכת עורכי הדין ובסיוע וייצוג משפטי פרו-בונו לארגונים חברתיים, לארגוני זכויות אדם, וליחידים בעלי מקרים תקדימיים הנוגעים לזכויות אדם ואזרח |
| 'Eva Joseph-Sam'an | מנהלת לשכת הרווחה – ג'יש (גוש חלב). חברת הנהלה בעמותת אינג'אז. פעילה בפורום מנהלי לשכות רווחה ברשויות הערביות. |
| Einat Fishbein | עיתונאית בידיעות אחרונות. עוסקת על פי רוב בנושאי חברה וסקרה במהלך השנים מכלול תופעות כמו: זכויות עובדים, ניצול עובדים, תוך התמקדות בעובדים זרים, ניצול עובדים ערבים, זכויות נכים בישראל, גירוש עובדים בישראל, טרנספר הבדווים, סחר בנשים, ואיידס בקרב אוכלוסיות שונות מההיבט החברתי |
| Sari Ravkin | מנכ"לית עמותת ידיד. שרי רבקין בעלת תואר שני בעבודה סוציאלית והתארגנות קהילתית, עבדה בארגון זכויות אמריקאי וב-1983 עלתה לארץ. סייעה בהקמת ארגון שתיל (מיסודה של הקרן החדשה לישראל) וניהלה אותו 14 שנה. |
| Bambi Sheleg | עורכת מגזין ארץ אחרת |
| Prof. Yossi Tamir | מנכ"ל ג'וינט-תב"ת. לשעבר מנכ"ל הביטוח הלאומי. פרופ' בבי"ס לעבודה סוציאלית באו' העברית |
The All Rights initiative works in cooperation with experts in the field of rights who are active in associations, public bodies and academic institutions, in two main channels of action:
Content partners: Experts in various rights, who write and update the content which appears on the site, in the framework of the All Rights knowledge communities.
Access partners: These partners, as part of their work in social services, aid organizations, or legal clinics, are in touch with populations that are eligible for rights. These partners use the All Rights Web site in order to assist those who turn to them in order to realize the maximum rights to which they are entitled.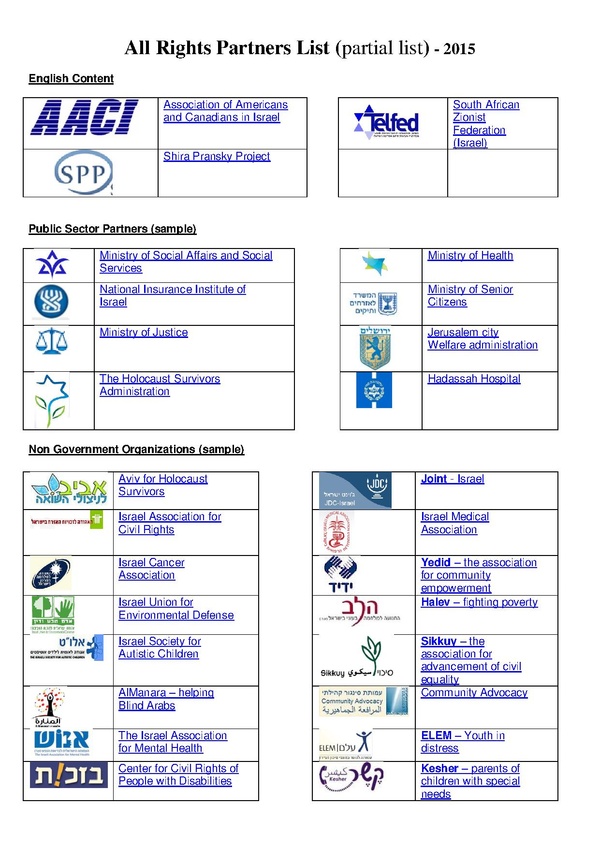 Dear donor,
We are an NGO and as such we depend on YOU. Here are a few facts that may be of value to you.

Our approved 2013 budget is about $ 650,000, including $ 160,000 of it is in-kind donations (see below)
Up to now most of the donations came from Israeli individuals including the founders
Amitay Korn (the managing director) has been working with no pay since January 2010
Amitay's annual in-kind donation is valued at $ 95,000
We have received the Israel Tax exempt status (Tofes 46)
US donors can donate to All Rights via NIF (New Israeli Fund) and get a US tax exempt
We are doing a lot. But we can do much more!
Feel free to contact me

Amitay Korn - Managing Director
+972-54-44972727
E-mail: amitay.korn@kolz.org.il
Israel's official language is Hebrew and as such All Rights primary site is in Hebrew. In our quest to serve the whole population of Israel, All Rights (Kol Zchut) faces some very interesting challenges:
Israel's second official language is Arabic, but the amount of translations of legal materials is minimal
There is a very large Russian speaking 'Olim' (immigrants) population
There is a large population of Ethiopian 'Olim' (immigrants) that speak various languages
The above populations are also those where entitlements consumption is low!
On top of that there is an on-going flow of Olim (immigrants) that need information in English, French and Spanish
All Rights is a very large database of information about Rights and Entitlements. As such, the cost of maintaining a truly up-to-date, comprehensive multilingual environment is huge.
We have decided to take a practical approach that follows these principles:
Develop the technology that will help us maintain at minimal cost multiple translations
Initial focus on Arabic translations. Luckily we have very strong partners in this area.
In many cases we will translate only page titles and redirect to Hebrew content. The idea is that most Arab-speaking citizens also have a fair understanding of Hebrew
We assume this also holds true for many immigrants
We intend to start also Russian translations before the end of 2012
What is Kol-Zchut (All Rights)?
The Web site is a non-profit, collaborative initiative that unites experts in the field of rights who are active in dozens of organizations, associations, public bodies and academic institutions. The Web site is operated by a company for the benefit of the general public. It is a non-profit organization that is funded by social funds and private contributions.
How do I know that the information on the site is up-to-date?
The content experts who belong to the knowledge communities make an effort to update the Web site whenever there is additional information or a change that affects the rights that appear on the site. However, sometimes the updates are delayed. Therefore, in cases where you are uncertain about the relevance of the information, we recommend performing the following two checks:
The date of the last update appears to the right of the article's headline. This will let you know when the article was last updated.
A link to the government agency responsible for implementation of the rights appears in many of the articles on the site.
We are unable to guarantee that the information is up-to-date at any point in time.
There are many rights which don't appear on your Web site. Why not?
The All Rights system is a new initiative, and the content topics are added to the Web site at the rate we recruit knowledge communities in the various fields. Although dozens of articles are added to the Web site each week, we are still far from covering each rights topic. If you are an expert in a specific field and are interested in joining our knowledge communities, please contact the knowledge community manager, Eden Fuchs.
I found a mistake, how can I get it fixed?
If you found a mistake, or if you have additional information that may be relevant to a particular article, please advise us by clicking the "Change Proposal" button that appears at the top of each page.
Why should I register on the site?
After you register on the site you will be able to create lists to follow topics that are of interest to you, and to receive updates when new information has been added or is changed in the relevant areas. In addition, you can browse the site as you like, using the "My preferences" menu.
On the Wikipedia Web site, anyone can add content to the site. I registered on the All Rights site and I still can't add content. Why not?
Just like with Wikipedia, All Rights is a cooperative system. However, in contrast to Wikipedia, the authorization to edit the All Rights content is given only to experts in the specific field, in an effort to preserve the quality of the information and to prevent mistakes or inaccuracies. If you would like to join one of the All Rights knowledge communities and receive authorization to edit content, please contact our knowledge community manager, Eden Fuchs. If you would like to make a comment, add specific content, or alert us regarding an error, please update us using the "Change Proposal" button, which appears at the top of each page.
I don't see any advertising on the Web site. Who funds you?
All Rights is a non-profit initiative that is funded with money contributed by organizations and private donors. Its content is contributed by our knowledge communities, which are made up of organizations, government institutions, academics and professionals in various fields.
For information regarding All Rights (Kol Zchut) feel free to contact:

Amitay Korn - Managing Director
amitay.korn@kolzchut.org.il
+972-54-4497272